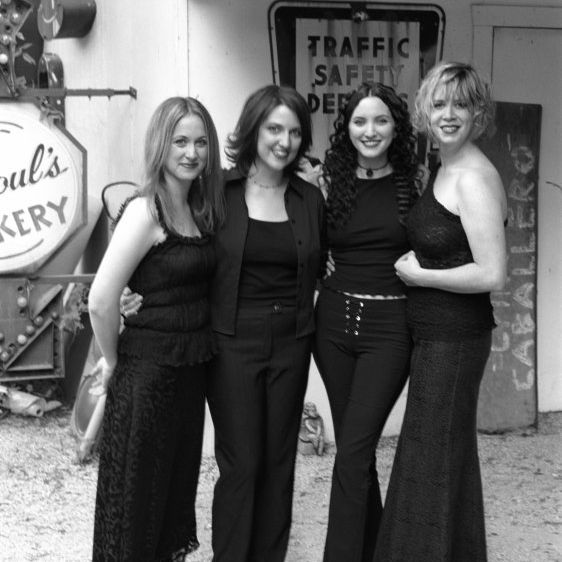 The Tosca String Quartet is Leigh Mahoney - violin, Tracy Seeger - violin, Ames Asbell - viola, and Sara Nelson - cello.  They began in 1996 as members of the Tosca Tango Orchestra, a seven-piece ensemble that captivated the Austin, Texas, live music scene in the late 1990's. The tango nuevo orchestra performed new compositions by composer and bandleader Glover Gill (along with a few Astor Piazzolla covers) and released six albums. In 2000, the group gained an international following with soundtrack and on-screen work in Richard Linklater's arthouse hit film Waking Life, and an appearance by invitation at the 5th World Tango Summit in Argentina.  In 1999, the Tosca String Quartet began presenting concerts of new music by local composers in alternative performance spaces, often bars and clubs. These collaborations led to the very successful Golden Hornet Project (founded by Graham Reynolds and Peter Stopschinski) and ongoing relationships with several local composers, including Stephen Barber, Carl Thiel, and Terry Bozzio of Frank Zappa and Missing Persons fame.
Although the members of the quartet are classically trained, they also know how to rock. They form the core of the Tosca Strings, who toured internationally with David Byrne from 2001 to 2005 and were featured on his Grown Backwards album. Television appearances with David Byrne include the Late Show with David Letterman, Late Night with Conan O'Brien, Austin City Limits, and the BBC music show Later… with Jools Holland. They can also be seen on David Byrne's Live at Union Chapel DVD, filmed in London in 2002.  
The quartet also appears on the Dixie Chicks' Grammy-winning album Home, and has recorded and/or performed with artists such as Arcade Fire, Spoon, Bonnie Raitt, Ray LaMontagne, Susana Baca, Bob Schneider, Ian McLagan, Ray Benson, Vampire Weekend, Roseanne Cash, Jennifer Warnes, case/lang/veirs (k.d. lang, Neko Case, and Laura Veirs),  and DeVotchKa. Tosca also performs in the Austin-based project Erik and the She-Wolves, with fiddler/guitarist Erik Hokkanen in a high-energy show that includes bluegrass, fiddle, surf, western and gypsy swing styles. They are also featured in Bob Schneider's Moonlight Orchestra, performing at his annual Christmas and Valentine's shows at ACL Live at the Moody Theater to sold-out audiences. 
Alongside their pop music activities, the quartet remains on the cutting edge of Austin's classical scene. The group has performed concerts of contemporary chamber music throughout the area, often working directly with composers on pieces written specifically for them. They recorded a series of movie scores in 2007, working with Andres Levin and Stephen Barber for El Cantante (starring Jennifer Lopez and Marc Antony), Borderland, and Ladron Que Roba a Ladron. In 2019 they recorded the score for the documentary, Diving Deep. The quartet are also founding members of the American Repertory Ensemble, a contemporary chamber music & dance collective of international renown, who performed at the Edinburgh Fringe Festival in 2006 and won an Austin Critics Table Award in 2007. In the summer of 2008 they performed Lee Hyla's Howl for narrator and string quartet, written for the poem "Howl" by Allen Ginsberg.

Their most recent tango recording is A Ponzi Scheme, released in 2019 and featured at that year's Austin Music Awards.